DSO Keeps Truckin'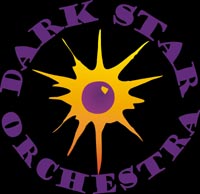 From Rochester Democrat & Chronicle:
Having a near-Dead experience

Jeff Spevak
Staff music critic
(November 16, 2006) — Beethoven was a notorious slob who wore filthy clothes and left uneaten food strewn about his apartment. Yet you wouldn't expect a conductor today to take his position at the front of the orchestra and, just before launching into the opening notes of Symphony No. 9, kick off his mud-stained loafers and set his half-eaten, Styrofoam carton of chicken wings on the lectern in front of him. Interpreting music isn't like acting the part. It's less a mirror than it is a window.
"We have some members that resemble the Grateful Dead, in some ways," concedes Dino English of Dark Star Orchestra, a Grateful Dead tribute band. "It's not an on-purpose kinda thing. It's not about going for the look. It's really about the music."
Dark Star Orchestra, which plays Nov. 21 at Water Street Music Hall, was created nine years ago by a fellow named Bob Matthews, who was a producer and engineer with the Dead from the 1960s into the '80s. The idea was for each show to be a re-creation of a different Grateful Dead set, song by song, over the course of the evening.
There have been Grateful Dead tribute bands playing for decades now, but after Garcia's death in 1995, "the crowds went up," says English, a 38-year-old St. Louis native.
"I was playing for some of the different bands and was starting to take it more seriously, just to try to keep the music going. I wanted to make sure the music was played with integrity and played right. It was always falling short of that."
Until a night in Chicago seven years ago when, while playing drums with another band, English took a break and wandered down the street to another club. Dark Star Orchestra was playing. "I decided, 'As long as someone's getting it right, there's no point in me doing it,'" English remembers thinking. "Shortly after that, I saw an advertisement on their Web site. They were looking for a drummer.
"My first show was my audition, playing for 400 people."
No small deal for English, who from then on would be Bill Kreutzmann to thousands of Deadheads who won't let go. Through its history, the Dead played about 2,500 shows, virtually all unique. "We know maybe 300 different songs at any one time," English says. "With rehearsal we could probably play another 100." Dark Star is up to about 1,300 shows, which includes 900 different Dead sets. They've pretty much mined dry a favorite era, 1976-78, meaning repeats are necessary if Dark Star Orchestra wants to play anything from that time. And about one in four shows is a free-for-all of songs, including music from the Jerry Garcia Band and various side projects.
Which show the band is playing for each gig is a secret, to be revealed only at the end of the night. Until that moment, Deadheads hear the music played on the same type of equipment that the Dead used. Dark Star Orchestra even has a Brent Mydland keyboard and one of Phil Lesh's basses. For further authenticity, former Dead members Donna Jean Godchaux, Bob Weir, Vince Welnick, Tom Constanten and Kreutzmann (whom English does not even remotely resemble) have even performed with the Dark Star Orchestra.
"We're trying to get a similar tone out of the instruments, not a note-for-note thing by any means," English says. "We want the song structure to be similar, the melody to be there, the harmonies to be there, the chord structure. When it comes to the improvisation that happens, we try to stretch it as much as we can. We use the songs as a launching pad. We're not trying to copy anything."
You wouldn't expect the band to copy one of the less-desirable aspects of the Dead legend. Yet that, sadly, has happened. Four of the Dead's keyboardists have passed away over the years, most recently Welnick. During last year's tour, one of Dark Star's founding members, keyboardist Scott Larned, died of a heart attack. According to English, his death wasn't attributed to that most-rock-star of deaths, drugs, but the quiet killer of thousands every year: high cholesterol.
So there are limits, and the band members may feel grateful for that.
Guitarist John Kadlecik didn't have to sacrifice a finger to make the band: As all Deadheads know, Garcia lost one of his in a childhood ax accident. And, "We don't have the parking-lot scene in most places we go to, like they did," English concedes. "They had tens of thousands of people coming to a show. Although I'm sure before our show people are eating their veggie burritos and smoking whatever they've got."
If you go
What: Dark Star Orchestra.
When: 8 p.m. Nov. 21.
Where: Water Street Music Hall, 204 N. Water St.
Tickets: $20, available at Ticket-master, (585) 232-1900 or www.ticketmaster.com, or Aaron's Alley for no service charge.
Call: (585) 325-5600.
Web: www.darkstarorchestra.net.