Weir still has bite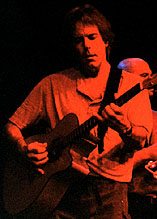 From JS Online:


Weir still has bite
Ratdog rolling along, but Dead always in the picture
By LARRY WIDEN
Special to the Journal Sentinel

For more than 40 years, the Grateful Dead has been at the forefront of the American music scene, their songs conveying images of lifestyles based on something besides chasing the almighty dollar.

Formed by the late Jerry Garcia in 1965, The Dead thrived on a musical fusion created by six diverse talents and personalities.

The Dead's legendary three- and four-hour shows contained extended freeform solos within the songs. Still, even an outfit as loose as The Dead imposed some musical restrictions on its members.

By 1974, Garcia had formed a band of his own for even more personal expression. Guitarist Bob Weir quickly followed.

How Weir came to meet Garcia is the type of story that every struggling musician fantasizes about.

In 1963, Weir was 16 and a dyslexic high school dropout when he met Garcia in a Palo Alto, Calif., music store.

Garcia, then a banjo teacher, was waiting for his student to arrive and invited Weir to jam with him. The two hit it off and three days later formed Mother McCree's Uptown Jug Champions. The jug band evolved into The Warlocks, which then became The Grateful Dead.

Looking back, Weir said meeting Garcia was like running away and joining the circus with your best friend. "Who wouldn't love that?"

In 1994, Weir met bassist Rob Wasserman at a benefit concert and discovered they loved playing together.

Calling themselves Ratdog, they quickly added a drummer and toured the country playing covers of their favorite blues songs.

Wasserman eventually left the group, and the Ratdog sound slowly evolved from a sedate blues band to a harder rock 'n' roll group with a solid sprinkling of jazz at its core.

The current Ratdog lineup includes Weir on guitar and lead vocals, drummer Jay Lane, keyboard player Jeff Chimenti, guitarist Mark Karan, saxophonist Kenny Brooks and bassist Robin Sylvester.

The constantly changing set lists sometimes includes numbers by Son House ("Walkin' Blues"), Garcia ("Touch of Grey," "Sugaree") and Weir ("Playing in the Band," "St. Stephen" and "Truckin' ").

Weir says even he has no idea what Ratdog will do until they step out on stage. Weir spoke ahead of his Thursday show at the Marcus Amphitheater with String Cheese Incident and Keller Williams.

Q. How do you pick the songs you're going to play?

A. (laughs) We have a pretty large repertoire. Because we're playing Milwaukee, I bring up the set list from the last couple times we were there. Those songs are automatically ruled out. Then I bring up the songs we've played in the last week or so, and those songs are out too. So now that I know what we aren't going to play, I'll piece together a possible set list. But among the fans, our set list is well known as a pack of lies. (laughs) Or a wish list. I'm working on a software program right now that will allow us to select songs on the fly during the set.

Q. You often do one or more of Jerry's songs. Is he still with you?

A. He sure is. And he's never gonna go away. Not as long as I'm alive.

Q. What can you do with Ratdog that you can't do with The Dead?

A. Oh, there's so much other stuff we can play. The chemistry of a band like Ratdog is different from The Dead. These musicians have different histories, different musical tastes, different influences. So for me, it's all new colors on the palette.

Q. Is Ratdog a democratic group, or is it Bob Weir's band.

A. It's not my band. It's our band. I'm not interested in having my band. I've felt that way ever since day one.

Q. The Dead were your peers. Ratdog's members are all younger than you are.

A. And that's good. I get to hear all kinds of things that are more current than the stuff I might come up with.

Q. What's on your iPod right now?

A. Wow, it's so diverse. I've got the biggest one, and it's almost full. I was just listening to a song The Dead performed at the Fillmore in 1966. After that was Stravinsky, then some John Coltrane, whom I love. I keep the iPod on "shuffle."

Q. Name a song you wish you'd written.

A. "Yesterday." "Somewhere Over the Rainbow."

Q. Your influences include Sonny Boy Williamson and Robert Johnson.

A. They're the mud between my toes, man. I wouldn't be me without those guys. Like most musicians, you have friends who turn you on to different stuff. I found Rev. Gary Davis because of (Jefferson Airplane founder) Jorma Kaukonen. I used to tape his shows and pirate his licks back in the '60s! Once he and I got to know each other, he made me listen to a Gary Davis album, and I was off to the races! I had a black friend who lived in East Palo Alto and he invited me over to hear the new Miles Davis album. I was the only white kid there. But I was every bit as blown away by it as all the black folks.

Q. What's your opinion of the jam bands that have followed in your footsteps?

A. I'm delighted. But it's important to point out that we invented nothing. Go back to Buddy Bolden and Louis Armstrong. They invented the jam stuff, coming up with a theme and taking it for a walk in the woods. We're doing nothing different today. Bands today may think they got it from The Dead, but they're really channeling Louis Armstrong.

Q. In 1993, you guys (The Dead) sang the national anthem at Candlestick Park. Was that a sign of moving closer to the establishment?

A. I don't think so. The Grateful Dead has always practiced Americana. We're Americans and we're patriots. Singing the national anthem is something we can do with our hearts on full.

Q. Vince Welnick just died (June 2). It's tough being a keyboard player for The Dead.

A. Yeah, it does seem like that's kind of a hot seat. I don't know what to say about that. Vince was a good musician. He died of a mental illness. It was complicated because he'd been taking Zoloft for the last 10 years, and then he just stopped abruptly. It was a careless thing to do, but I guess he didn't know that. It's as if he was wearing headphones and stepped out in front of a bus. He didn't hear it coming, he didn't see it coming. People call suicide the ultimate selfish act, but this was not that. This was something else. It's very sad.

Q. Is the Grateful Dead finished or do you have plans to regroup?

A. I think there's plenty left to do. If we were to take it up again, my preference would be to let it be the four of us go reinterpreting the music we've made over the years. After we've done that, I'd be happy to have other performers play with us. But I believe our task at this point is to go straight into what we've been up to all these years. Because only we speak that language.

Q. If you weren't a musician, what would you be doing?

A. Architecture maybe. Writing. I do photography as a hobby, and I like working in PhotoShop. My aptitude tests said I'd make a good military officer (laughs). I don't know about that.

Q. What do you think people say behind your back?

A. (laughs) I think they say, "Don't take him seriously. He's just all cranked up!"

Q. What else would you like to accomplish?

A. Aside from my musical projects and objectives, I'd like to help democracy flourish once again in this country. Democracy is being systematically choked, and the mid-term elections could be our last gasp. It has to be one man and one vote in this country. We need to get started, and now is the time, brothers and sisters.